MRC Project Gallery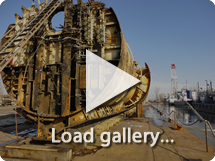 For more information, visit our Recent Projects page.
---
Consulting Services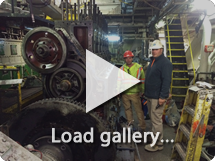 For more information, visit our Consulting Services page.
Marine Recycling Corporation
Towing and Recycling Obsolete Vessels In An Environmentally Friendly Manner For 50 Years
Marine Recycling Corporation (MRC) is the world's first ISO 14001 Certified ship recycling company. Proud of this achievement, MRC and its expert staff strive to serve the maritime community with excellent recycling and consulting services in the Great Lakes, rivers and coastal regions of Canada.
MRC specializes in marine salvage and wreck removal, complete end-of-life marine vessel decommissioning and recycling, vessel conversions afloat and in dry dock, vessel re-powering, lakes and ocean towing, marine and industrial demolition, emergency response, sectional dismantling, marine/shore construction and shore protection.
MRC has 50 years of experience specializing in end-of-life vessel management. In collaboration with its trusted marine partners, MRC manages end-of-life vessel disposal programs at its Lake Erie facility and at fixed and portable dry docks on the Great Lakes and Atlantic Canada. With access to these Canadian facilities, MRC is well positioned to support fleet owners with total end-of-life vessel management.
If you want zero liability and hassle-free green disposal, look no further and contact MRC today!
---
MRC Recent Projects
November 12, 2018
MRC Awarded the Contract to Recycle Three DND Auxiliary Vessels
MRC is pleased to announce the safe arrival to Sydport, NS, of three Department of National Defense auxiliary vessels: a YDG 2 Deperming Barge, a YRG 60 Fuelling Barge and YDT 12 Granby.
October 19, 2018
Lockview Park Community Garden Wraps up Second Growing Season!
It was another successful growing season at the Lockview Park Community Garden in support of the Port Cares Reach Out Food Centre. In its second year, the volunteer run garden added 1,546 pounds of fresh produce to the Food Bank's pantry.
August 27, 2018
The Algorail, Algoway and the English River Arrive in Port Colborne
The summer season is off to a great start at MRC Port Colborne with the arrival of three new vessels: the Algorail, the Algoway and the English River.
MRC Value Proposition
What every vessel owners needs to know.
To learn more, visit our MRC Value Proposition page.
The Virtues of Domestic Ship Recycling
In 2005, Wayne Elliott, founder of Marine Recycling Corp. the foremost vessel recycling expert in the world, completed an interview with CBC's "The Fifth Estate", entitled the Big Break. The interview entails the danger of sending Vessels to sub-standard disposal sites. Contact us today to discuss The Virtues of Domestic Ship Recycling.