HMCS Preserver and CFAV Quest Arrive at Marine Recycling Corporation Sydney
August 11, 2017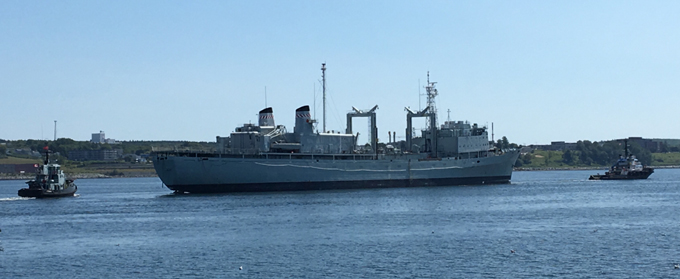 MRC is excited to announce the arrival of the HMCS Preserver and the CFAV Quest at its new location in Sydport Industrial Park in Sydney, Nova Scotia.
MRC was awarded the contract to recycle the naval vessel along with the former research vessel, the CFAV Quest, in June 2017 and plans to commence the recycling process on the HMCS Preserver soon.
The HMCS Preserver is a Protecteur class replenishment oiler that was used by the Canadian Navy in order to provide fuel, food and munitions to naval vessels at sea. The CFAV Quest, also a naval vessel, was used to conduct oceanographic and hydrographic research in Europe, the North Atlantic and the Arctic.
MRC is honoured to have the responsibility of recycling these historically significant vessels and, as a leader in green recycling, takes pride in knowing they will be retired in a deservedly dignified and environmentally safe manner.
"MRC is particularly proud to be part of the incredible growth in Cape Breton and the Port of Sydney, with all of its great people," said Jordan Elliott, President & Marine Superintendent at Marine Recycling Corporation.
---