Our Team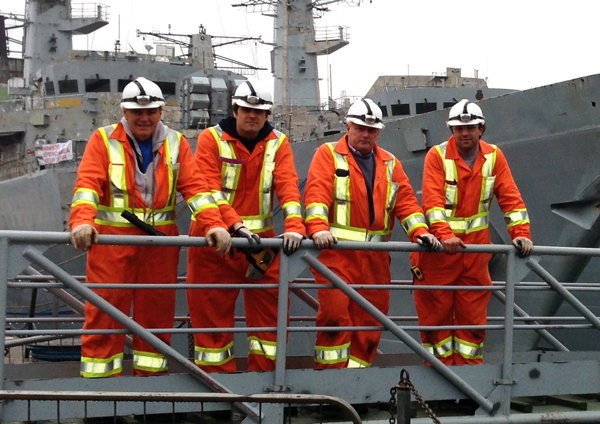 MRC Founder and Director of Business Development, Wayne Elliott, is widely regarded as North America's foremost expert in Ship Recycling and has overseen the recycling of over 100 vessels.
MRC President, Jordan Elliott, has been active in the family business of Ship Recycling for most of his life, and has overseen the safe recycling of over 30 vessels.
MRC's expert team routinely recycles all types of marine vessels, including full-size Great Lakes Freighters (bulk carriers and self-unloaders), Naval and Coast Guard vessels, barges, fishing trawlers, tugs and ferries. MRC has also completed several complete stern removals (afloat and in dry dock) and removed the wastes and obsolete equipment for several repowering projects. Our waste management and dismantling teams are highly trained in all facets of ship recycling.
The teams at MRC are well experienced in maintaining stability of vessels, vessels mooring and security, hot work aboard marine vessels and ashore, fall arrest and prevention, confined space entry/ rescue, high-angle rescue, first aid/CPR, snorkel/scissor lift operation, compressed gases safety, heavy equipment operation and certified scuba diving. MRC also has certified in-house teammates in Asbestos Abatement (both worker and supervisory level), Mould Abatement, Sampling of Designated Substances, Clearance Air Testing, PCB Identification and Removal, CFC Identification and Removal, Fuel/ Oil/Sludge/Oily Water cleanup and recycling , General Vessel Remediation, Transportation of Dangerous Goods and Disposal services.
MRC also provides expertise and consulting in the design and start-up of ship recycling facilities, ship recycling, sectional dismantling, onshore and offshore decommissioning, marine salvage/wreck removal, towing and towing preparation and waste management services. MRC has performed various projects for commercial, government and military sectors of the marine industry.
---
Thank You
We have received your message and we will respond to you shortly.
Sorry, there were error(s) with your submission.
Please try again.
Contact Us
Please use the form to the left, or
contact us today at:
MRC - Port Colborne, ON (Headquarters)
3A Lake Road
Port Colborne, ON L3K 1A2
Canada
Local: (905) 834-0227
Toll Free: 1-888-WE-REDUCE
Fax: (905) 834-2295
MRC - Edwardsville, NS (Sydport Docks)
20 Marine Drive
Edwardsville, NS B2A 4Y9
Canada
Local: (902) 577-1856
---
We will put you in touch with a representative that will be able to answer all of your questions.
Thank you!
Quick Links
For your convenience, here is a summary of important links related to this page.