MRC Project Gallery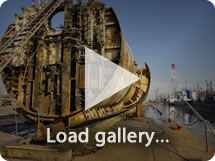 For more photos and project details, visit our Recent Projects page.
MRC presents how NOT to berth a vessel!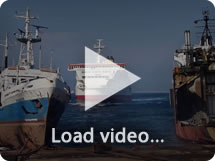 Marine Recycling Corporation
Towing and Recycling Obsolete Vessels In An Environmentally Friendly Manner For Over 40 Years
Marine Recycling Corporation (MRC) is the world's first ISO 14001 Certified ship recycling company. Proud of this achievement, MRC and its expert staff strive to serve the maritime community with excellent recycling and consulting services in the Great Lakes, Rivers and Coastal Regions of Canada.
MRC specializes in marine salvage and wreck removal, complete End-of-Life Marine Vessel Decommissioning and Recycling, vessel conversions afloat and in dry dock, vessel re-powering, lakes and ocean towing and towing preparation, marine and industrial demolition, emergency response, sectional dismantling, marine/shore construction and shore protection.
Learn more about our company.
---
MRC Industry News
September 6, 2016
Local Companies Work with City to Grow Fresh Produce for the Food Bank!
Two local companies have joined forces with the City of Port Colborne and Port Cares to build and manage a community garden at Lockview Park with the fresh produce going to the Port Cares Reach Out Food Centre.
June 8, 2015
MRC Awarded the MS Jadran
On May 28th, hundreds gathered to witness the final voyage of the MS Jadran from Toronto harbour to MRC headquarters in Port Colborne.
June 4, 2015
MRC Receives the American Fortitude
On May 14th, MRC completed the journey from Oswego, NY, to Port Colborne, ON, with the American Fortitude in tow.
MRC Value Proposition
What every vessel owners needs to know.
To learn more, visit our MRC Value Proposition page.
The Virtues of Domestic Ship Recycling
In 2005, Wayne Elliott, founder of Marine Recycling Corp. the foremost vessel recycling expert in the world, completed an interview with CBC's "The Fifth Estate", entitled the Big Break. The interview entails the danger of sending Vessels to sub-standard disposal sites. Contact us today to discuss The Virtues of Domestic Ship Recycling.
---