In The Community
MRC strives to be a positive influence in the community, both through the creation of jobs and through the continued support of local community organizations such as Port Colborne's own Port Cares.
As a responsible corporation, MRC endeavors to participate in local projects that focus on:
Improving the standard of living for all Port Colborne residents
Providing the needed support to empower our residents and encourage achievement
Beautifying our community
Community Garden at Lockview Park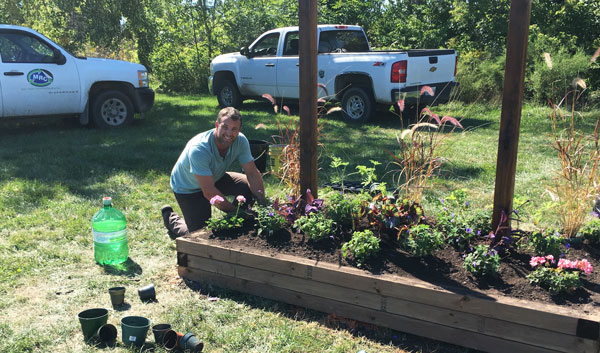 In the fall of 2016, MRC joined forces with the City of Port Colborne and its partner company Raw Materials Company to build and manage a community garden at Lockview Park that will provide the Port Cares Reach Out Food Centre with fresh produce.
The community garden currently has eight raised garden beds and with additional volunteers and corporate support, the group hopes to have 30 plots one day. If you or someone you know would like to get involved, please contact us. MRC President, Jordan Elliott plants flowers at new community garden in Lockview Park.
Derek Point & Memorial Garden
In 2002-03, MRC built the Derek Point & Memorial Garden, transforming an old industrial site to a beautiful park and one of the best vantage points for watching ships on the Great Lakes.
Each year MRC staff conducts a park clean-up and plants new flowers and trees. Benches and picnic tables have been installed for public use. Derek point features access to the Niagara Riding Trails.
All signs and structures are made from recycled materials provided by MRC.
MRC is proud to be a Canadian private company based in Port Colborne, Ontario and plans to continue to support and strengthen our great community.
---
Contact Us
Please use the form to the left, or
contact us today at:
Canada: (905) 834-0227
Toll Free: 1-888-WE-REDUCE
Fax: (905) 834-2295
MRC Port Colborne
3A Lake Road
Port Colborne, ON L3K 1A2
Canada
We will put you in touch with a representative that will be able to answer all of your questions.
Thank you!